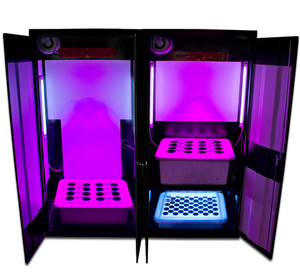 The Super LED Grow Boxes are the World's #1 Selling LED grow boxes for several reasons:
SuperCloset LED Grow Cabinets use Kind LED Grow Lights, whose K3 Series L450 is the perfect choice for growing in full size LED grow cabinets or any comparably sized space.  It took years to find the right LED company to feature in these perfected Stealth LED Grow Cabinets.  The Kind K3 Series L600 is comprised of 3 Watt LED's with a proprietary spectrum made for flowering large yields while consuming approximately 1/2 the electricity of HID grow lights and producing virtually no heat. This makes SuperCloset systems run quieter (less fans), cooler, and more energy efficiently than any other LED grow cabinets on the market today.
A Little Kindness Goes A Long Way
KINDEST YIELDS   – 700 mA Driving Current Increases Diode Efficiency and Output, Resulting in a Brighter, Higher Yielding Footprint
KINDEST SPECTRUM  – Proprietary 12 Band Complete "Perfect Spectrum" Powered by 3 Watt Diodes
KINDEST INTENSITY  – Secondary Optical Lens Magnifies PAR and Increases Canopy Penetration By Up to 200%
KINDEST QUALITY – Extra Large Heat Sinks, Quiet Fans, Precision Drivers, Superior Craftsmanship
Kind Benefits:
Use a proprietary 12 bandwidth spectrum comprised of 3 watt diodes that run at 700mA.  Lesser LED grow lights run at 500mA with only a 6 bandwidth spectrum.
Thick, heavy duty 2 CM aluminum heat sinks that dissipate heat much more efficiently than other LED lights, making Kind LED lights run more effectively and cooler leading to longer life spans and increased performance.
Revolutionary "Secondary Optical Lens" for maximum photosynthetic penetration from plant top to base, considerably increasing "under canopy" production and yield.
These Kind LED lights will match or outperform any other 3 watt LED grow light, including much higher priced brands. GUARANTEED!