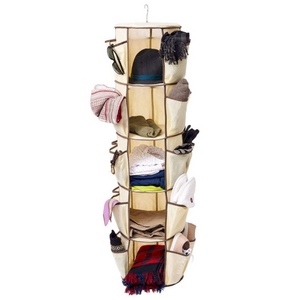 FEATURES
EASY ORGANIZING SOLUTION Keep closets organized, clean, and items off of the floor. Quick and easy way to create organized hanging space in closets, garment racks, or wired shelf systems.
Made with a sturdy top spinning hook, reinforced shelving platforms, and non-woven breathable fabric. Keep items secure, visible, and easy to access. Non-woven breathable fabric helps to keep clothing and shoes as fresh and they are stored.
 360 DEGREE SWIVEL HANGER Easy to access all the storage pouches without needing to remove the organizer from the closet. Maximize storage space while keeping the floor clear, safe, and tidy.
MULTIFUNCTIONAL STORAGE SYSTEM Perfect for baby essentials, slippers, scarves, handbags, hats, towels, other personal or family items. Useful for almost any room in the house - use for clothes in bedroom or linen closets , craft supplies, toys in kids room closets, or other items. Easily hangs on any rod closet systems or wardrobe bar.
SPECIFICATION
Dimensions: 125*33cm
Material:Fabric polyester
PACKAGE INCLUDES